When you need a towing company, it's likely because you're in a stressful situation. Maybe your car broke down on the side of the road, or you were in an accident. In these moments, it's important to find a dependable, professional towing company that can help you get back on the road as soon as possible.
Choosing the right towing company can be difficult, but it's critical to ensure a safe and efficient tow. So, what should you look for in a towing company? Here are some important considerations:
License and Insurance
The first thing to look for in a towing company is whether or not they are licensed and insured. A reputable company will have a license to provide towing services, which ensures they meet state requirements for safety and professionalism.
In addition to a license, a towing company should carry liability insurance that covers any damage that occurs during the towing process. This protects both the towing company and their customers from any unexpected costs or accidents.
Reputation
Another important factor to consider when choosing a towing company is their reputation. Look for a company with positive reviews and feedback from previous customers. You can check for reviews on Google, Yelp, or the company's website.
A company with a reputation for excellent service is more likely to treat your vehicle with care and provide reliable assistance during your time of need.
Equipment and Technology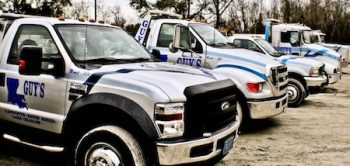 A good towing company should use state-of-the-art equipment and technology to safely and efficiently tow your vehicle. Make sure to choose a company with a fleet of well-maintained trucks that can handle your specific type of vehicle.
Some companies also use GPS technology to track their trucks and be able to provide more accurate ETAs to their customers. This can be helpful in ensuring you don't have to wait too long for your tow.
Availability
When you need a towing company, you need them quickly. Look for a company that offers 24/7 availability. Emergencies don't only happen during regular business hours, and the ability to reach a tow truck at all hours of the day can make all the difference.
Some companies also offer additional services, such as lockout assistance or jump-starts. Finding a company that can provide these services in addition to towing can be helpful in case of any other unexpected car troubles.
Pricing
Price is always a consideration when choosing a towing company. While you don't necessarily want to go with the cheapest option, you also don't want to be overcharged. Look for a company that offers fair and transparent pricing with no hidden fees.
It's also important to ask for an estimate before agreeing to any services. This will give you a better idea of how much you can expect to pay and prevent any surprises on your final bill.
Response Time
When you're stranded on the side of the road, every minute counts. Look for a towing company with a fast response time, ideally within 30 minutes from the time of your call.
Quick response time can prevent additional accidents from happening and ensure you get back on the road as soon as possible.
Professionalism
Lastly, choose a towing company that exudes professionalism. This can be demonstrated through their overall demeanor and how they handle your requests.
Look for a company that values your business and treats you and your vehicle with respect. A professional towing company should have courteous drivers who are knowledgeable about the towing process and able to answer any questions you may have.
In conclusion, choosing the right towing company is important for both your safety and the safety of your vehicle. Make sure to consider these factors when you are in need of a towing service. Remember, always do your research to ensure a safe, efficient, and reliable tow.
Need Assistance? We Are Your Local Towing Company
At Guy's Towing Service, we've been providing reliable and high-quality towing services to Louisiana for over 40 years. As the largest towing company in the state, we take pride in offering exemplary service to our customers in their time of need. Whether you find yourself stranded with a broken-down car on the side of the road or in need of a vehicle recovery late at night, we're available 24/7 to help you get back on the road safely and efficiently.
We are proud to offer a wide range of services, including:
Light Duty Towing Services
Medium Duty Towing Services
Heavy Duty Towing Services
Vehicle Recovery
Specialized Hauling
Emergency Towing
Roadside Assistance Services
And so much more!
If you are ever in need of assistance, feel free to contact us.