Looking for towing services near Baton Rouge?
Although not the largest city in Louisiana, Baton Rouge serves as the state's capitol. Off of Capitol Access Rd is the Louisiana State Capitol, the tallest capitol building in the United States at 450 feet high. At the other side of town at Perkins Rd is the Blue Bayou Water Park. Here, the steel roller coaster "Ragin Cajun" and MAMBO, the largest upside-down water slide in the world, make this a great locale for a party. And at any party, be careful not to drink and drive, or risk putting yourself in danger or your pocketbook at risk from Louisiana State Police Troop A. Instead of taking such a risk, Guy's Towing Service offers free rides for you and your vehicle from holiday parties along with other towing services in Baton Rouge to keep you and the roads safe.
Are the rides home really free?
During the holidays they are! We've
offered this service for over 30 years
to make sure you get home safe and keep the roads clear. It's just one of the ways we go the extra mile for our community!
We have tow trucks for any occasion
It's important that you go with a towing company that can handle routine roadside rescue just as well as underwater recovery. With several classes of tow trucks, including heavy-duty tow trucks, we're prepared for anything.
Light duty towing is for typical breakdowns at paved roadsides. These trucks should have no problem as long as your car hasn't been damaged too much.
Medium duty tows are for jobs that are a little more difficult. Getting stuck far off road, in mud, or in a large vehicle like an RV may require this kind of towing.
Heavy duty tow trucks are rarely needed. A heavy-duty truck is designed for underwater recovery, uprighting tipped semis, and other tough work.
We do roadside assistance too!
Sometimes, you have a small problem and don't need a full tow. If you can't get your vehicle running, you might be reluctant to call a tow truck company. Don't be! At GTS, we also offer road service. We can assist you with several minor issues, such as:
Out of gas
Dead battery
Flat tire
Engine won't turn over
No more coolant or fluid
Spare tire change
Car won't start
And more!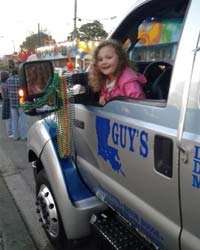 Our team is available for emergency towing too!
What happens if you get stuck late at night? Some tow truck companies will make you wait until the next business day. We don't. Give us a call whenever you need us, and we'll head straight to you. With a location right in Baton Rouge, it won't take us long to dispatch a truck over to you for help. If your car needs repairs, we even know several local auto repair shops with after hours drop offs. Choose one of these shops, and we'll gladly take you back home afterward or to a nearby hotel if you choose.
---
Call us for towing services in Baton Rouge
With speedy dispatch, knowledgeable drivers, and unbeatable service, we're the best towing service around!
Neighborhoods
Garden District
,
South Baton Rouge
,
Mid City North
,
Morning Glen
,
Zion City
,
Oak Hills Place
,
Lobdell/Woodale
,
Eastgate
,
Gardere
,
Park Forest/LA North
,
Beauregard Town
,
Capital Heights
,
Audubon Terrace
,
Mid City South
,
Atwood
,
Highlands/Perkins
,
Highland Lakes
,
Scotlandville
,
Broadmoor/Sherwood Forest
,
Wickland Terrace
,
Wedgewood
,
Southdowns
,
North Sherwood Forest
,
Downtown
Lakeside
,
Melrose Place
,
Sherwood Forest
,
Village St George
,
Autumn Run
,
Howell Park
,
Red Oak
,
Riverbend
,
Highland Creek
,
Cedarcrest
,
Northdale
,
College Hills