Call us when you need a tow truck.
There are many reasons you might need a tow truck. And when you come to Guy's Towing Service near Baker, you can use one of our versatile trucks for much more than car breakdowns. We offer roadside assistance, 24-hour, and emergency towing! With the right equipment, tow trucks can bring a car home, extract a vehicle from a ditch, or even right a tipped semi-truck. As the largest towing company in Louisiana, we're prepared for these and much more. With a fleet of over 40 trucks available, we have several trucks in all sizes, and specialized vehicles ready to help as well!
Light duty trucks are what we'll often be sending out when you call for a tow truck. These trucks can hook and lift standard vehicles with ease. Hooking up to a light-duty truck generally only takes a few minutes so we can quickly get you back home.
If you're in a more unusual situation, a medium-duty truck is most likely what you'll see. These trucks are often used for vehicles that are off the road or in a ditch. They're able to tow nearly all residential vehicles and many commercial ones as well.
While medium-duty trucks are good enough for most jobs, sometimes heavy duty is required. With a 60-ton crane system, heavy-duty trucks can handle everything from underwater recovery to righting a full semi back on its wheels again.
---
---
We have specialized towing equipment on hand
While the standard equipment on our tow trucks is enough for most recoveries, sometimes you might need a little more. That's why many of our trucks carry specialized towing equipment just in case.
Our heavy-duty tow trucks also have an airbag recovery system. This is especially helpful with semi-trucks with a full load. This helps bring a tipped semi with a full load back on its wheels without endangering the truck or people nearby.
Think your vehicle is too big for us to handle? Think again! For industrial equipment or other large vehicles, we also have Landoll trailers available. These trailers allow us to carry even the largest vehicles safely to their destination.
Have cargo that can't wait for your truck repairs? Try our specialized hauling services! We can do load shifts from your truck to one of our Peterbilt trucks or other specialized vehicles to haul your cargo where it needs to go.
Why choose Guy's?
Although our equipment is impressive, that's only part of the reason to go with us when you need a tow truck. Service is what sets us apart and what many other towing companies are lacking.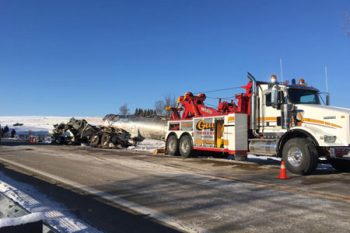 When we give you an estimate, we don't overestimate our speed to get your business. We give you an honest response time so you aren't left waiting past when you're expecting us, and can often get there even sooner!
We know that you're already distraught when it's time to call for a tow truck. And we don't want to make it worse. Our staff is friendly, professional, and courteous, and do our best to help you out.
Our primary goal is to get everyone home safely. And we aren't just saying that. For over three decades, we've been providing FREE rides home from holiday parties for the locals and their vehicles!
---
Call or contact us today when you need a tow truck.
With friendly service, fast response times, and low prices, we're the best towing service around!
---