Towing providers are one of the most essential services for motorists on the road. They rescue drivers in desperate hours of need and help get them back on their journey safely. Unfortunately, car troubles happen when you least expect them, including in the middle of the night. Sometimes, finding rescue at such times can prove to be a daunting task. So, is it possible to call a tow service during off-hours? Do towing companies offer a 24-hour towing service for motorists? Find out in the blog post below.
How does 24-hour towing service work?
These towing services generally function 24 hours every day of the week. If you are in an emergency car trouble situation, you can call their numbers or visit their website for a quick response. The company's staff will dispatch one of the many tow trucks available to provide roadside assistance as soon as possible. They also work closely with police agencies and fire stations for fast response times.
Are there any benefits of 24-hour towing?
Emergency roadside assistance is an essential service provided by many tow companies, but having a 24-hour rescue team for your vehicle can come in handy in many ways. These include:
Available around the clock
The most notable benefit of a 24-hour towing service is that it offers round-the-clock rescue and assistance. This means you don't have to wait till morning or when weather conditions improve for them to come to your location because they will show up anytime you need their help.
Easier in bad weather conditions
If a storm comes rolling through town when you are stranded with a flat tire on the road, you can expect the company to come and rescue you as quickly as possible. They usually don't need road conditions to improve or anything like that because they can navigate all kinds of situations with their heavy-duty trucks for your safety.
Properly trained staff
Tow truck drivers are highly trained and certified to handle all kinds of roadside emergencies. They know how to change tires, jumpstart dead batteries, fix flat tires, etc. if you experience any trouble with your vehicle while on the road or just parked somewhere. The only way they are departing the breakdown sight is when your car is safely in tow.
Cost-effective in the long run
When you factor in all the perks these companies offer, their services are cost-effective. You don't have to call multiple service providers because one tow truck company can handle it all for your convenience. These include changing tires, jumpstarting dead batteries, and more at very affordable rates that will save you money over time compared to other service providers.
Fast response
Accidents are unpredictable and will happen when you least expect them. If you find yourself stuck in the middle of nowhere on a snowy day, you can expect the tow truck to come and rescue you in no time. These services move quickly to rescue you, so you don't have to remain stranded till the following day.
Do tow trucks offer 24-hour services?
Unfortunately, not all towing companies offer 24-hour services. Depending on where you are in the country and the car trouble you experience, you might be out of luck if your car breaks down during off-hours or on a holiday. This is especially true for remote rural areas where you'll barely find this kind of service outside of regular day hours. However, many reputable tow truck services can dispatch assistance for you at any time because they work around the clock. These will respond to your emergency as quickly as possible in order to provide you with the needed help.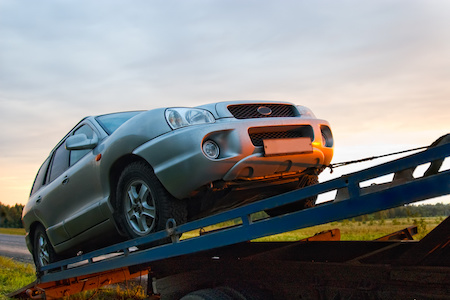 What should I look for in a 24-hour tow truck service?
24-hour towing service is a valuable commodity that drivers need when car trouble strikes unexpectedly. However, you should always do your due diligence and check out the reputation of any company before signing on with them for their services. Some of the qualities to consider are:
Professional and trustworthy staff
One of the first things a driver will notice about a towing company is how staff members behave and interact with customers. You want the people who arrive on your scene to be professional, well-mannered, and trustworthy because you never know what emergencies might pop up during this kind of service call.
A reliable 24/hr tow truck fleet
The next thing you should look for in a tow truck service is the level of experience and expertise with their fleet. You want to go with an experienced company that knows how to handle any vehicle trouble. The fleet should also handle all types of vehicles, which means you don't have to worry about calling multiple companies if your car is unique.
Provide insurance information
You should always provide your insurance information to the tow truck company. This way, their team members will help you file a claim down the line if necessary so that you don't have to deal with any difficulties later on.
Convenient rates and services
Lastly, a good tow truck company will be able to provide you with all of the services you need in one place. This includes roadside assistance and any transportation or logistics that might come up during your car trouble incident. In addition, they should offer fair rates for their various services and transparent billing practices, so there are never any surprises.
Try Our Emergency Towing!
Caught up in a roadside emergency with no one to help you? Call our lines at Guys Towing! We provide emergency towing in Baton Rouge 24 hours a day, seven days a week. We have been in the business for years and offer affordable rates with prompt service; we'll be there as soon as possible to help you out! Give us a call anytime!