No one likes to be stranded on the side of the road, especially if they're in an unfamiliar place. And nobody wants to leave their car keys with strangers. But this is a common experience when you call a towing service; some providers will ask for your car keys, temporarily, of course. So, is this something you should be worried about? Should you give the tow truck driver your car keys?
Why would a tow truck driver need my car keys?
There are several reasons why you might be asked to hand over your keys by your tow truck driver:
-They might need them to look at the car and provide an estimate for services rendered, such as tire changes, battery jumps, or tows.
-At times, they might ask for your keys if there needs to be some work done on the vehicle's engine while it is immobilized.
-The third reason why they may ask for your keys is so that they can remove any valuables from the vehicle before it's towed away to prevent any damage during the tow.
-Lastly, some towing companies may want to put the car in neutral before they begin towing.
Your tow truck driver will usually walk you through the process. They are there to help you, so if you ever have any questions, just ask!
What should I do when the tow truck driver asks for my car keys?
You can always refuse to hand over your car keys, but this might lead to a delay in service or even cancellation of towing services. The important thing is to establish the level of trust you have with the tow company; if you trust them, it's fine to hand over your car key. After all, this is common practice among many towing companies, and they never do it with ulterior motives. But if you don't feel comfortable giving up your keys, you have every right to decline. If you are feeling weary, ask them questions on why they need it. In most cases, they will be happy to answer any questions you may have.
How can I prepare my car for a tow?
Before the towing company comes to your location, it is important to ensure your car is ready for towing. This will save you precious time and allow the process to go on smoothly. Some of the things you can do in preparation include:
Remove any personal items
Start by removing any personal items from the car such as money, documents, food and everything else that you either need or is of value.
Make sure the car is in park or in neutral
You should also ensure that your car is in park or neutral before the tow vehicle arrives. If you are not familiar with doing this, consult a manual for proper instructions on what to do. It might seem like an unnecessary step, but it's important to keep the car from shifting during towing to avoid any damage.
Ensure your lights are turned off
Another thing you should do is turn off your car's lights. If they are on, it might confuse other drivers and cause the tow truck driver to have a hard time locating your vehicle.
Take pictures of the car's location
You should take a picture of your vehicle before getting your car towed so that there are no disputes about its exact position. This will help the towing company find the vehicle easily and ensure they don't get lost on their way to where you are.
Mark your car with reflectors
If you won't be present during the towing process, you should put reflectors near your vehicle to make it easier for the tow truck driver to spot it.
Establish the price on the phone
Additionally, you should talk to the towing company over the phone and establish a price for services rendered. This will clarify how much money you should expect to pay.
Give them what they need
Lastly, make sure that when the tow truck arrives at your location, give them whatever they need. This includes your car keys if they ask for them, garage door openers, or other stuff that might be necessary during the process of towing.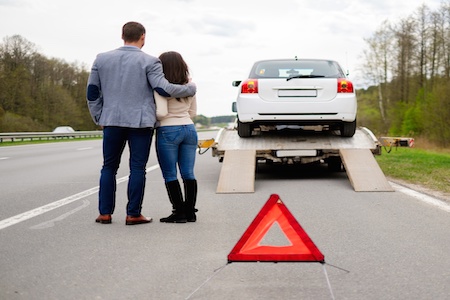 Your Trusted Tow Truck Provider!
If you need a towing Ascension Parish service you can trust, look no further than Guys Towing. We have built a dependable and professional reputation that can cater to all your roadside assistance needs. We have been serving this community for many years with pride, professionalism, and, most importantly, honesty. Just give us a call and leave the rest to us!
FAQ
Is it safe to give my car keys to a tow truck?
It is common practice for tow truck drivers to ask for your car keys. However, they will not need them in most cases, and you can always decline if you feel uncomfortable handing over the keys. It all depends on how much trust you have with the company; there has never been a case where someone was scammed by a tow truck company as long as they've established a reputable name.
How much money will I pay for my car being towed?
Many factors determine what type of price plan is best for someone who needs roadside assistance. This includes the distance to the repair shop, what type of vehicle you have, and other factors that might affect how much time is needed to complete the job. It's best to talk with a company representative to know which service package is right for you.