Every experienced driver knows that car troubles are unavoidable at times. While this is something many people fear, the problem becomes compounded when you are unprepared. Before you even reach out to tow truck services, it helps to be ready for as many unforeseen situations as possible. Here are a few handy items and tools every driver should carry in their vehicle at all times.
Jumper cables
Jumper cables come in handy when your battery dies without warning. They can quickly jump-start your car and get you back on the road. This is an extremely easy and quick fix that will get you back on the road in no time!
Tire repair emergency kit
If you catch a flat anywhere on the road, tire repair kits can give you some time to reach safety. These small kits include all of the tools needed to fix a puncture with ease. If you know how to replace a tire, it won't be long before you're back on the road. Remember also to bring a tire jack and tire pressure gauge. If you're not familiar with how to replace a tire, call an emergency roadside assistance provider!
Seat belt cutter/window breaker
This useful item comes in handy when you are trapped inside your car. You can use it to pry open the door or window and quickly get out of your vehicle before it catches fire or to avoid an imminent collision. It's a must-have if you ever find yourself stranded with no help nearby!
Flashlight
Of course, one of the most essential tools you need is a flashlight. This can come in handy when looking under your hood at night or fumbling for items in your trunk. Even if there's no immediate danger, it helps to be prepared with this tool just in case!
First aid emergency kit/ medical supplies
If you are involved in an accident, it's important to remain calm. Your first aid emergency kit can help provide quick relief for any minor wounds or injuries before EMS arrives on the scene. It's also a great way to prevent infection until you reach your doctor!
Umbrella/poncho
An umbrella or poncho can be useful in the rain. If you have to pull over on a rainy day with your hazard lights flashing, it helps protect you from the elements until help arrives!
Wallet/ID
Of course, one of the most important items you should always carry is identification, car insurance, and money. You never know when you will need cash to make a phone call or pay for your services. It's also helpful to have car registration papers and identification on hand in case there are any police officers nearby!
Flares and matchbox
Flares and a matchbox can help alert others to your situation when you have a roadside emergency. If someone else is trying to pass by on the road, they must see where you are to avoid running into your broken-down car.
Life-saver triangles
Another useful safety tool is a set of life-saver triangles. These triangular signs can help alert other road users that your car has a problem and can possibly avoid accidents. It's helpful to keep in your trunk as an emergency precaution!
Tow rope/towing cables
If you find yourself broken down with no assistance, it's important to carry tow ropes or cables so that you can be towed safely back home. This is especially helpful if other drivers in the area are willing to help out! You can also call your local towing company!
Spare tire/tire iron
One of the most common causes of roadside emergencies is a flat tire. If you remember to carry your spare tire, it helps to have the tools to change it quickly. Plus, if you have a punctured tire in your trunk, this tool can come in handy for that as well!
Roadside reflectors
Roadside reflectors are useful if your car breaks down after dark. If you've lost power, it can be hard to see where you need to go or what is around you. These reflective signs will guide others through the darkness so they don't accidentally hit your vehicle!
Power inverter/charger
It's important to keep all of your electronics charged if you're stranded on the side of the road. Car chargers are usually not powerful enough for tablets or laptops, but a power inverter can provide extra juice when you need it most!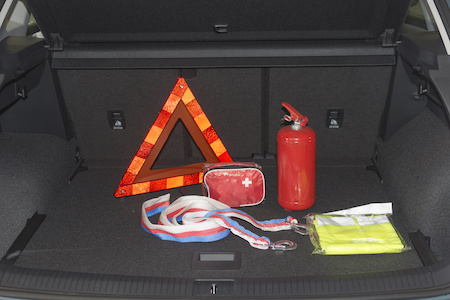 Fire extinguisher
If you're stuck on the side of a busy road, it can be challenging to control your car if there is an accident or if another driver loses control. Having this safety tool at hand will help prevent any small fires from becoming big ones! It's always a good item to have with you in case of emergencies.
Maps and GPS
If you ever get lost or find yourself in an emergency, it's important to have a map with you at all times. It's especially helpful when your GPS isn't working and you're trying to figure out where you are and how to direct emergency services to your location!
Tow truck service number/emergency phone numbers
It might seem like common sense, but keeping the number of your towing service provider or at least a few different emergency contacts is extremely important. This way, if you need help immediately, you can call for it right away!
Emergency blanket
An emergency blanket is a lightweight and compact tool that can help keep you warm in case your vehicle breaks down during inclement weather. If it's cold or raining, this will provide extra protection from the elements until you are rescued!
Water/snacks
It might seem like common sense, but having some snacks and water with you at all times is helpful in case of an emergency. You never know when you might be stranded for an extended period and need to wait until help arrives!
Duct tape
Duct tape is a great tool to keep with you at all times in case something unexpected happens. You can use it to secure a broken item.
Guys Towing Got Your Back!
Don't let car troubles spoil your trip! Whenever you get stranded in a remote part of the highway, call Guys Towing for emergency tow truck Baton Rouge services. Our lines are open around the clock, so no matter what time you need us, we're here for you at the push of a button!