Look outside and the sky is turning blue, trees are budding and birds are chirping. Perhaps you have been able to walk around without much of a jacket either. No, you're not seeing things. Spring really is here, which means Summer is next, which means only one thing: road trips.
There is no season better to roll the windows down, bump up the music and cruise up the Mississippi, visit the Kisatchie or Sabine National Forests or walk the beaches of Lake Charles and Grand Isle. Maybe you will cross over state lines to visit our neighboring states of Texas, Tennessee or Arkansas. Perhaps you are planning to tour our own state of Louisiana.
One thing you should know is that Guy's Towing Service doesn't just serve Louisianans, but every one. Whether from the Bayou State or just visiting, you can count on Guy's Towing to help you in a pinch, providing everything from a battery jump to a tow near the Baton Rouge area. When your road trip is derailed by car troubles, we will be there to put your plans back on track.
Take a peek at our checklist of road trip supplies every driver needs in their vehicle before setting off on America's highways. Find peace of mind on your summer road trip knowing any possible obstacle has a workable solution rather than a trip-ending consequence when Guy's Towing Service is on your side.
---
For the Driver
As the driver of your vehicle, much of your time on the road trip is going to be spent monitoring the road. But don't forget to monitor your car, too! Your car should be constantly feeding you information, be it from the lights on the dashboard or the mechanical vibrations under your seat and feet. Moreover, these next few items on our list are essential to making sure you can decipher information from you car as well provide needed information to authorities and service providers.
Owner's Manual and Driver's Manual
Despite automaker's best intentions, not everything is immediately apparent. When you sit down in a car you don't know, rental or owned, there should be an owner's manual explaining the equipment and indicators of the automobile in the glove compartment. Knowing your automobile is the number priority of any driver. Knowing what every light and lever says and does means every problem can be identified, troubleshot and repaired.
Equally important is a driver's manual. Knowing the basic rules of the road is fundamental to staying safe, having a driver's manual will give you the answers to any question you might have while driving through a state. Obviously, driving laws vary state-by-state, so keeping all fifty manuals in a car is impractical. But, worry not, where ever you go there is bound to be an online version of the manual that you can keep on your phone in case of questions.
License, Registration, Insurance
Every driver should have their license, car registration and insurance card ready in any event. This is important information for the driver to provide to any authorities. Police officers, rental companies and repair shops will need this information in the event of an accident, a collision or just figuring out who will foot the bill for any repairs. This information will ensure that you are neither accused of stealing a vehicle and clear up the who and what of any emergencies that might occur.
---
For the Vehicle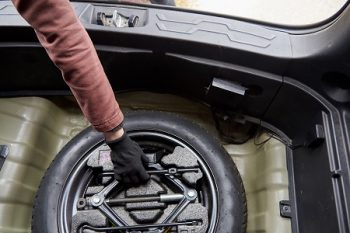 If a vehicle breaks down, it is imperative to have the right tools to deal with it. These tools can afford you the ability to fix the problem without having to call for roadside assistance. You can grab most of these items from any auto parts shop.
Of course, if driving a rental, not every vehicle has all of these tools with them and you probably will not want to buy them. In any emergency, you can receive roadside assistance coverage from a plethora of sources like an insurance company, phone service provider or even.
For more information on how much it might cost or where you can get it from see our blog post here. Guy's Towing Service can provide you roadside assistance and a tow to the nearest auto repair shop should the situation turn out more serious than otherwise thought.
Jumper Cables
The most basic item for any car comprises the jumper cables. The most common issue any driver will face beyond just an empty gas tank is a dead battery. Not having those vital jumper cables will have any driver cursing their lack of luck and wishing they had spent the relatively few dollars on a pair rather than spending an hour stuck and searching for a jump.
Tire Pressure Gauge
Worried your tires might be going flat? A tire pressure gauge serves the only sure way to know. There are two types of gauges for measuring tire pressure, electronic or analog. Both are inexpensive enough a gadget that will work for the basic need they answer: informing the driver how how much air sits in those tires.
The recommended PSI value you will want to aim for is between 30 to 35 PSI. If your tires are going flat, most gas stations offer tire inflation services. Keeping your tires inflated is not just important to avoid visiting your nearest tire shop, but also ensuring acceptable gas mileage to save dollars at the pump.
Make sure when checking the PSI value that your car has an acceptable amount of tire tread and that the brake pads are not worn out. If you place a penny in the tire tread, it should rest up to Old Abe's nose. For checking the brake pads, take off any hub cap and look inside the wheel and brake caliper. The pad resides in there and should be at least a quarter inch thick to ensure a successful road trip.
Spare Tire, Tire Jack and a Lug Wrench
If you are unfortunate enough to pop a flat tire, do not drive on it. This will break the tire wall meaning the tire will need replacement and not a simple patch up.
Instead you will need a spare tire (also called a go-flat), a tire jack and a lug wrench. Most cars already come with a spare. However, tire jacks and lug wrenches will also be found at any auto parts shop worth their salt. These are the more expensive tools and it is understandable to skip on them when renting. Luckily any roadside assistance provider also worth their salt should have the tools necessary to replace a flat tire.
Once you have put on the spare tire, take it to the nearest tire store immediately. Spare tires are to be used sparingly and transport you to the professionals who can help replace the tire. Spares are not for continuing on a long distance journey because, as their alternative name suggests, they will "go flat."
Safety Triangles and Flares
Should you have to change a spare or suffer some other roadside emergency on a narrow shoulder, it helps to have a safety triangle and flares to warn other drivers and give them information of the troubles ahead. Place the flares a safe distance away from your car—about 300 feet away if on a highway, less than that if you are on a slower road.
---
For the Passengers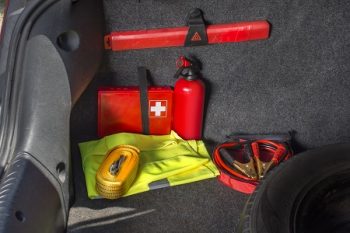 Now that we have discussed everything on this list that we need for the car and driver, there are a few supplies on this list that you will need to keep those quarrelsome passengers safe, or even better, useful. Sometimes the greatest struggle with driving on a long road trips is pacifying the kids, remembering to eat something nutritious or having a phone with enough juice.
First Aid Kit
Most people know to keep a first aid kit in their home, but not many think to keep on in their car. Gauze pads, band-aids, scissors and cleaning solutions are essential to any functional kit. With them, you will be able to fix up any cut, nick or scrape while stopped at a rest area or in the midst of a fill up.
Car Snacks and Water
Driving is a fatiguing experience for everyone, not just the passengers. Much ado about sitting down to do nothing, a long drive can drain a person of energy. The best way to keep energy up without having to stop for a meal every few hours is to have plenty of energy foods and water.
Don't just stock up on chips, candy and soda! Energy bars, trail mixes, fruit snacks, sports drinks and water can help keep your mind from wandering on the road. Water can also work great to clean off any minor injuries accrued during the trip.
Moreover make sure to change drivers every few hours if possible. Energy is a critical resource for everyone involved on a road trip. Having someone to switch off when driving reduces fatigue risk for both drivers and passengers alike.
USB Phone Chargers
Speaking of energy, have a USB charger handy. Keeping your phone charged is now essential to every road trip. Cell phones have come to replace the roadmap, flashlight and CD player altogether.
Most new passenger vehicles offer power outlets in-of-themselves, but older cars can employ the cigarette lighter as a charger. Having a cigarette lighter charging port on-hand means you never have to worry about losing your directions or tunes to low power.
Road Maps and Flashlights and CDs
You might not need these if you have a phone charger but it's never a bad idea to keep backups! Nothing feels as nostalgic as having old road maps to cover you in places without cell service and CDs to take control of the music for 40 minutes. Old road maps can help guide you on to the right path and having a flashlight will help you read any road map or see any car issue with clarity.
Meanwhile, a good greatest hits record is a car karaoke dream, one which everyone in the car can take part. Sometimes it's about keeping people engaged and older, tactile supplies do as good a job as any to keep minds off the travel time.
---
Guy's Towing Service For Louisiana
Where ever your travels take you, know that Guy's Towing Service will have you covered across southeastern Louisiana. We offer roadside assistance as well as towing services. Having trouble on your road trip? Give us a call and we'll dispatch on our professional tow truck drivers to help you in any way possible.