Here Are 6 Things To Look For To Avoid The Wrong Tow Truck
While we all desire to drive safely, road accidents and mishaps are a part of life. Despite our best efforts, vehicle collisions, stalled cars and flat tires happen out of nowhere. In any of these cases, you may need assistance quickly.
This is precisely where the role of a towing company and a tow truck comes into the picture. We believe that everyone should have the details of at least one professional towing company handy so that should the need arise; you've got someone to call.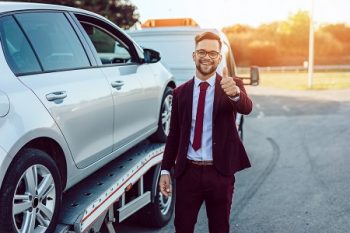 As anyone with the internet can see, there are tons of companies in the market.  It becomes important for you to know how to spot the best one. You don't want to pick up a towing company that is least likely to reach your location when you need them to.
Then there's the question of pricing. You don't want to be associated with the kind of towing site that robs you with their massive bills. So, let us give you some clear tips on finding the best professional towing company that can work for you within budget and in the expected time as well.
1. The Service List
As the first order of business, make sure the company provides for your needs. There's more to towing service than simply moving a vehicle that has been a part of a collision or is damaged. Some services only offer certain types of towing vehicles, so don't assume everyone in the automotive towing industry does the same thing. Many specialize in car removal services and roadside assistance, while others are purely for recovery and heavy transportation for commercial drivers. The types of towing are usually labelled light-duty, medium-duty or heavy-duty.
What use is a tow truck driver if they are not willing to help you at the accident scene, simply towing away your personal property and paying no heed to the nearest auto repair shop selected by your insurance company? You should make it a point to duly study the service list so that you have a clear picture of what type of towing and what kind of services they offer.
2. The Reviews
Online reviews are a great way to judge as to how effective a company truly is and most likely the place people are going to notice first. However, when we want you to follow the reviews, we don't want you to do it blindly. If there's time, go through the reviews to get a real idea of how their service treats its customers. Look for minute details and a high level of description. It will help you have a better idea of how reliable the company actually responds to its clients.
While not always sustainable, a tow truck business might do what they can to inflate their good reviews. If you're going by the reviews, take them with a grain of salt. That same eye for detail may keep you from being hoodwinked by the stream of fake reviews present all over the web.
3. The Service Areas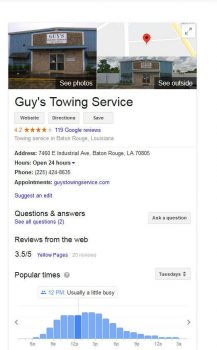 As a leading tow truck business, Guy's Towing does a lot of work to make sure our customers know that we're available exactly where they are. Most other towing companies too, will strive to make it clear where they can and cannot provide service. There is no point finding a towing company that doesn't even offer services on your regular route.
Of course, most towing companies have specific areas of operation. If you pull them up on your phone, the towing businesses  you see should be ones that can get to you right away. You should have a ballpark estimate of companies that service the route you take daily and then choose the best ones among them. If you don't they might not be available to help you at a time of dire need.
4. The Pricing
A good tow truck business knows that the majority of their calls are from customers who are in a bind. They get their phone calls from people who don't have time to shop around. Some are definitely going to use that to their advantage.
You should be able to get upfront pricing options from your towing company. They should be able to tell you how much it'll cost (ballpark) to bring your car to the repair shop versus bringing the car to your home.
Not all of us can afford to pay whatever a tow truck business quotes. This is why it is also important to pay heed to the pricing as well. You can always run a cost comparison check on towing businesses if you want to know which of the two gives you that rare blend of great quality services and low prices. Even if the prices aren't low, it shouldn't be insanely expensive either. You would ultimately need to make a trade-off as you shouldn't expect rock-bottom prices for the top tow truck companies.
You can always take a look at the mileage rate which each company charges to have a fair estimate of how far they will go and the price they will quote.
5. Emergency Support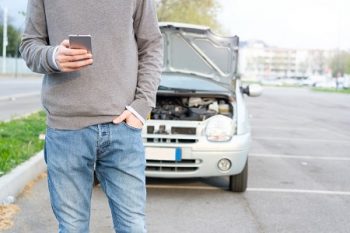 With the exception of certain transportation and hauling and storage jobs, most tow jobs need to be done ASAP.
This is crucial to making the right choice in the automobile towing industry. You should keep an eye out for the kind of emergency services that type of tow truck business offers. Towing services often occur in case of emergencies and unwanted road mishaps. If a towing business isn't responsive to such requests, it defeats the very purpose of choosing them.
This is why your choice of the best professional towing company should rely largely on their response rate to emergency cases and how quick they are at attending such scenarios.
6. The Towing Services Types
You should also take a look at the different types of tow services which the company offers. This goes back to the service list. A towing business that won't provide what you need should make that clear from the get-go. You don't want to call a tow truck only to know that they are not proficient in handling that case. Making a well-informed decision is vital in the automobile towing industry.
While some of us do not keep track of any of the towing businesses near us, we here at Guy's Towing Service believe that it is pressing information in times of need. It doesn't hurt to do a little research, dig up some information and come up with the details. You never know when it might be useful to you.
While some of us do not keep track of any of the towing companies, we believe that it is one of those necessities which can turn out to be really useful in times of need. It doesn't hurt to do a little research, dig up some information and come up with the details. You never know when it might be useful to you.
Looking for a tow truck business near Baton Rouge? Call Guy's Towing Service!
In the end, you can always come up with your own filters to decide which the best towing company is. Here at Guy's Towing Service, we might be the largest tow trucking business in the state, but that means nothing if we're not the best at it too! A tow truck operator from Guy's Towing can provide everything from roadside assistance to heavy duty towing for semi-trucks. If you're stuck in a rut near the Baton Rouge area, give us a call today.