Car troubles are sometimes inevitable. Getting stuck by the roadside is never fun, and the worst part is when it happens when you're not prepared or when you least expect it. Usually, the best thing to do is call emergency services like a towing company to get you out of the bind. But towing companies require insurance? This post will explain how to call a towing truck and whether or not you need insurance.
Does car insurance cover towing?
The short answer is no, not likely. However, there are a few exceptions. If you have roadside assistance from your car insurance company, the tow truck will be covered under that policy, which will save you money!
What happens if you're not insured?
In most cases, basic vehicle insurance does not cover tow services. It's always best to call your insurance company in order to clarify what your insurance plan includes. If your basic car insurance does not cover tow expenses, you will be liable to pay towing fees out of pocket.
What is roadside assistance coverage?
This is usually offered with your car insurance policy. Depending on the company you are insured through, it may include towing, lockout services, gas delivery, and more. You will have to read your contract or speak to a representative about what road assistance services are covered with your insurance plan.
What does roadside assistance cover?
Roadside assistance will vary from company to company. It may cover services such as:
Towing services
If you get involved in a minor car accident and can't drive your car, roadside assistance can help you. You may have to pay for the tow truck, but it's still way better than paying out of pocket if your vehicle is not working correctly.
Tire changes
As long as there are no significant damages to the rim or tire, most companies will send someone to change your flat tire on-site. If you have a spare, make sure to always keep one in your vehicle in case of emergencies.
Jumpstart
If your battery dies because of the cold weather and your car won't start, roadside assistance can help jumpstart your vehicle.
Gas delivery
If your car runs out of gas in the middle of a trip and there is no gas station in sight, roadside assistance can deliver gas to your location.
Lockout service
A lockout happens when you need to get into your car, but the key is stuck inside. If you don't have a spare, roadside assistance can help you get back inside your vehicle, so you don't have to wait for hours before someone shows up.
Some companies will offer more services depending on what kind of coverage you have. You should read your contract carefully before signing up for anything since each company may be different.
How can I get roadside assistance coverage?
Getting roadside assistance insurance is typically a part of your auto insurance policy. It may come included with the cost, or you can add it on for a certain amount per month to get these added benefits in case of a roadside emergency. Aside from car insurance companies, you can also sign up for the coverage at any of the following locations:
 Your vehicle manufacturer
When buying a new car, you may have the option of adding this coverage to your contract. This is a great way to get coverage without having an insurance policy, but it will cost more money overall if you are not already insured through another company.
What is the best roadside assistance coverage?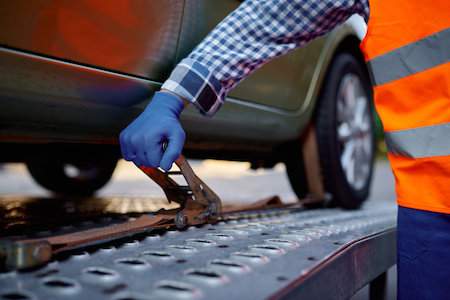 The best roadside assistance programs will depend on your specific situation and what you need to do when it comes time for a tow truck. If you're worried about spending too much money, consider getting additional insurance that includes things like gas delivery or lockout services in case something happens. You can also ask your agent what they recommend for roadside assistance. It could save you money in the long run and provide coverage to get out of any situation that may arise when calling tow services.
Do I need roadside assistance coverage?
It's important to have roadside assistance insurance when you're in the middle of an emergency, but it isn't something that most people need daily. Of course, there are always some exceptions, like living in areas where getting your car towed is typical or if your job requires you to be on the road driving long distances every day. Without coverage, you'll be out of luck and have to pay for the tow yourself. Overall, roadside assistance does more good than harm to you and helps secure your trips on the road.
Try Our Service!
At Guys Towing, we provide the best roadside assistance services in the local area. Our company offers gas delivery, lockout services and more. If you need any roadside assistance services, give our office a call today, and we'll be happy to help!