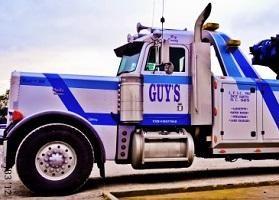 The Best Quality Tow Truck Service in Port Allen
When you need to call on a dependable fleet of tow trucks,Guy's Towing Service will be there at the sound of a dispatch. Any type of towing service you need in Port Allen, whether it's a light-duty tow or an emergency winch out, our professionals will quickly answer your call and arrive to the scene with the right ammount of towing power for your vehicle or trailer.
We use a variety of different towing capacities for any type of vehicle in a bind. For broken-down or illegally parked passenger vehicles, our speedy light-duty tow trucks waste no time getting to a vehicle for a lift. Our medium-duty and heavy-duty tow trucks are great for commercial vehicles, ranging from campers and package delivery vans, to semi trucks and tractor-trailer combos. Don't wait
---
Lightweight, Mid-Duty & Heavy-Duty Tow Trucks: We Do It All
Lightweight Towing:
We offer lightweight towing for a wide range of passenger vehicles:
Motorcycles
Your pride and joy muscle car
Sedans
Trucks
Small SUVs
Illegally parked cars
Mid-Duty Towing:
Our mid-duty towing service covers the same bases as our lightweight towing, but with more torq:
Campers
Delivery vans
Shuttles and Buses
Class C trailers
Heavy Duty Towing:
Our heavy duty towing can haul as much as 60 tons, and can handle any heavy-duty vehicle or machinery:
Tractor-trailer combos
Large fleet vehicles
Commercial buses
Semis
Garbage trucks
---
How long does it take from dispatch to arrival? ? As soon as we get the call, along with the whereabouts of your location and the size of your vehicle in need of towing, we dispatch our tow truck. Our large service area includes the greater metropolitan area surrounding Port Allen & Baton Rouge. Once we have all the details, we give you an ETA for our trucks to arrive. !
---
Emergency Towing Services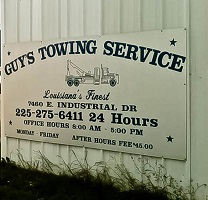 Accidents happen. And when they do, you'll want a reliable towing service to upright your car, truck, RV, or trailer. That's why our tow trucks come equipped to handle the toughest auto recovery situations imaginable.
We use a 60-ton crane system for recovering overturned autos. We can even pull out vehicles submerged in water! This system is capable of free-lifting typical cars and trucks and setting them back on the street. Then we can tow it back to your property with ease!
A tipped semi is very difficult to recover, especially if it's carrying a full load. Even a heavy duty crane system alone could have trouble. That's why we combine it with an airbag recovery system, to protect the vehicle and everyone around it.

Round-the-Clock Towing Service

We're on call. Our 24-hour tow truck service means we're available all day, all night, any day. The same policy goes for our roadside assistance service. At Guy's Towing, we try to reduce wait time and inconvenience as part of our customer service to you.

---

What do you need from me?

Call up our staff and give us your location, your vehicle, and what seems to be wrong with it

1

Contact

At anytime, call our team for a tow truck.

Details

The team will take down your information and send a truck out.

3

Dispatch

We'll hook up your car and then take it back to your property and drop it off.
---