Do you need towing services in Lafayette?
Right in the middle of the eastern and western borders of Louisiana is the fourth largest city in the state, Lafayette. In the heart of town off Cajundome Blvd is the Cajundome, home to concert venues, WWE events, the Cajun Heartland State fair, and much more. Nestled between trees and forest off of Fisher Rd is the Vemilionville Historic Village filled with historic houses and a regular spot to hear free live music. At the other end is the pristinely preserved LARC's Acadian Village that showcases what life was like hundreds of years earlier. Early settlers lived off the environment, making dolls from corn husks, candles from beeswax, and traveling without a car. If you're forced to emulate those days without cars by accident, call Guy's Towing Service. Our towing services in Lafayette will get your wheels turning again in no time!
Car sputter to a stop? Let us try roadside assistance!
Anytime that your car isn't working is a stressful time. This stress is compounded when you're out on the road, especially in an unfamiliar area. What can you do? With a nearby location in Lafayette, GTS can get to you quickly. Although towing is in our name, we also do road service for minor issues. This includes things such as flat tire changes or repair, jumping a dead battery, bringing you gas, and much more! When you call us, tell us your problem and we'll see if we can save you the inconvenience of a full tow.
We might be able to help over the phone! With over 40 years of experience, we've come across just about every car issue there is. And some of them are easy to fix! Tell us what's going on, and if it's a simple solution, we'll try and guide you through it. If that doesn't work of if you'd rather leave it to the professionals from the get-go, our roadside assistance should do the trick!
Our versatile fleet of tow trucks can get you unstuck
If roadside assistance doesn't work or we know right away that it's not a viable option, we'll send a tow truck to your location. With dozens of trucks standing by in our enormous fleet, we'll send the one that's most fit for the job. Usually, light duty tow trucks are enough to get you back on track, but sometimes a medium duty one may be needed if you have a much larger vehicle. In rare instances, you may need a heavy duty tow truck. These trucks are reserved for the most extreme jobs because often, their powerful specs aren't needed.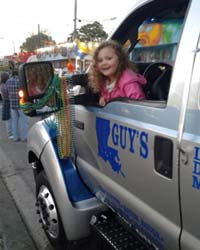 Heavy duty tow trucks have a 60-ton crane system that can pick up just about anything.
An airbag recovery system can right a tipped semi back on its wheels so it's ready to drive again.
We also have Landoll trailers and other specialized equipment for industrial vehicles and more.
---
We're always available with emergency towing
At GTS, we pride ourselves on having the best customer service of any towing company around. And we're available for emergency towing at any time! Simply call up our office and we'll send out the nearest truck as soon as possible to get you on your way. So when you need towing services in Lafayette, call or contact us first!
---