Car Theft Facts
A recent report about the problem of car theft in major metro cities throughout the United States shed light on some interesting statistics and trends regarding this crime. It listed the top 20 cities with the most car thefts per capita—including Albuquerque, Oakland, Detroit and Portland—which are outlined on the map below.
Additionally, it had a list of the 20 cities with the lowest rate of car theft, starting with Lakewood Township, NJ, Naperville, IL, and McAllen, TX. You can see the whole list in the report published on ASecureLife.com. That is why Guy's Towing provides safe and secure tow trucks Youngsville to help those in need. If you've had your car broken into or your tires stolen and you need tow truck service, call Guy's Towing immediately!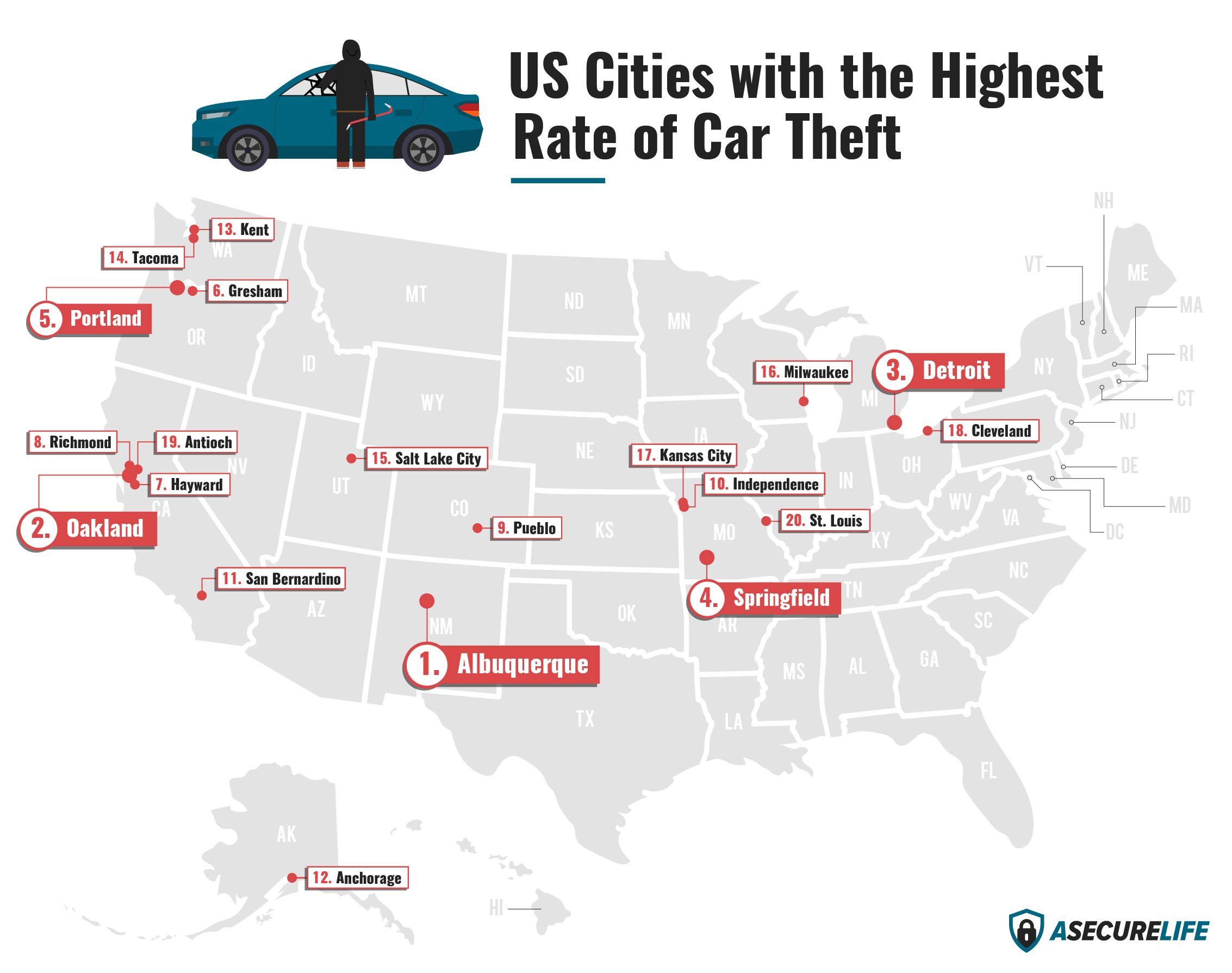 Baton Rouge wasn't on either of those lists. But if you look at the crime reports published each year by the FBI, you can see how the city compares to others of a similar size. Generally, the bigger the city, the higher the crime rate. (Of course, that is why they divide it by population and the report by ASecureLife was only comparing cities with a population over 100,000.
Since Baton Rouge has a population of 227,403, we were curious to find out where our city fell on the scale. We reached out to ask the writer of the report. They said that out of the 298 cities they ranked, Baton Rouge would come in at #187 on a scale of lowest to highest car theft rate (meaning #298 is the highest). That's higher than the median rate, but not high enough to be in the top 100.
To put it simply, residents of Baton Rouge do have a problem with car theft; it's just not quite big enough to call out as one of the worst. In 2017, according to the report, there were 991 vehicles reported stolen, which came out to a rate of roughly 435 per 100,000 people.
Another exciting way to look at it is comparing regions. Looking at the map, you can see that the South does well in regards to car theft prevention. None of the Southern states had a city in the top 20 highest theft rates list. We did, however, have eight cities on the "best" list. So in terms of big cities, it's a point of pride to say that our crime rates are relatively low.
It is awful to be a victim of car theft. Stats show that someone steals a car about every 40 seconds in the U.S., and only 60% of them are recovered. Knowing this, we felt compelled to share some of the prevention tips offered by ASecureLife. Hopefully, you will be able to take away some useful knowledge that can help reduce your risk of becoming a victim. Here are some highlights:
Be aware of the trends
Criminals are pretty predictable for the most part. If you look at car theft incidents, you'll see lots of behavior patterns. These patterns can help us determine when, where, or why a particular crime is more or less likely to happen.
For example, car theft is more common during the day than at night, despite common beliefs. With more people out during the day, they are much less likely to look suspicious or even be noticed at all. In big, bustling cities this is even more so, where car alarms aren't all that, well, alarming. As for the time of year, summertime and holidays also see a spike in car thefts.
Trends can change as technology advances though, which is another reason to stay current in your awareness of these issues. One of the more recent and somewhat surprising trends has been the incline of car theft incidents involving keyless cars. Fobs are incredibly convenient, but far too easy to leave inside your vehicle by accident. If this is something you frequently do, you should start getting serious about changing your habits.
Be Smart About Where You Park
When parking your car for an extended time, your safest practice is to think like a criminal. Look around you and take note of how easy it might be to steal your vehicle. Would anyone see them do it? Would an alarm be heard over the noises of the city? How fast can they break into the car and how quickly would they be able to escape? These are all things to keep in mind.
Increase Your Security Measures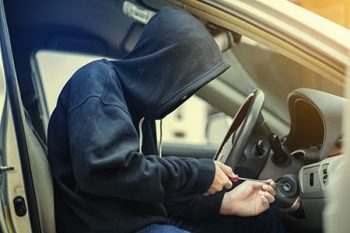 There are countless ways to increase the security of your homes, such as security cameras, security lights, or a full home security system. This review of home security systems is among the most recent and comprehensive if you're considering that route.
There are also several car security devices nowadays, too, and the technology is only getting better by the day. Many are probably familiar with steering wheel locks like The Club. It's simple but effective. More recently, the well-known smart home security company Vivint launched an intelligent security system for cars called the CarGuard. It's GPS-enabled and even comes with an app and subscription-based monitoring.
Keep Valuables Out of Sight
Car theft isn't the only reason to break into a vehicle. Criminals also look for items inside the car that they can steal. Don't give them a reason to break your window and get away with your belongings. Keep wallets, cash, guns, electronics, and other valuables out of sight for this reason. Or better yet, keep them at home if you can.
Be Prepared for the Worst
No one is perfect. With car theft being so common nowadays, sometimes even the most diligent car owner can find themselves in a worst-case scenario. That's why it is best to be prepared. If someone steals your car, take note of the essential details of the incident and call the police as soon as possible to file a report. Next, call your insurance company to see what your options are.
Often thieves won't steal the actual car, just parts of the vehicle. The wheels are relatively standard as they are easy to sell for some quick cash. So if you find yourself stranded and in need of a tow truck, give us a call anytime, any day.
Need a Tow Truck? Prairieville Locals Trust Guy's Towing
We proudly serve the greater Baton Rouge area, including surrounding cities like Prairieville and Port Allen. Tow trucks of all sizes and capabilities are just a call away 24/7 when you come to us for your needs.