Calling For a Tow Truck
There are a number of reasons why you might require towing services, but no matter what the situation may be, staying safe should be your number one priority. If you've been in an accident, asses if there are any injuries and call the police. Even minor accidents with no injuries sustained should have a police report filed. It's always best to have a record in case you or another party involved decide to pursue legal action. After the police are notified, or if a police report isn't necessary, then you can call for a tow truck.
Pull the Car Over
If possible, you should pull your car over to the side of the road before calling for help. Clearing out of the road is especially important if you are on a busy street or highway. Staying in the middle of the road raises the chances of being hit by another car.
If the car cannot move, but you are okay, then you should get out of the vehicle and stand somewhere out of the way of oncoming traffic. This, of course, is easier if the weather is decent or if there is somewhere within sight of the car where you can stand inside.
If the weather isn't cooperative or you are in a secluded area, then waiting in your car is okay. Remaining in your vehicle with the doors locked can sometimes be the safer choice, especially if you are in a secluded area at night time. If you ever feel unsafe while waiting for the tow truck, you can always call the police, even if a report isn't necessary.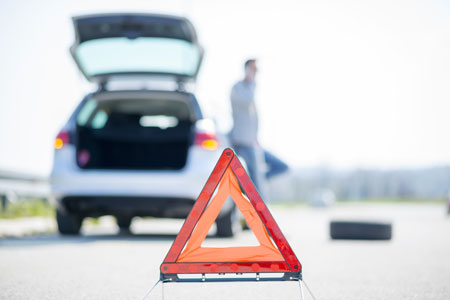 Be Sure You and Your Car Are Visible
Whether your car is still on the road or pulled over to the side, turn on the hazard lights. Even if it's bright outside, this will alert other drivers that your car cannot move and that you are experiencing trouble.
If you have an early warning device, like a road flare or a reflective triangle, you can set that up to warn other drivers as well. These items are especially helpful at night, or if your car broke down in a blind spot, or around a bend.
If you are not waiting inside of your vehicle for the tow truck to come, make sure you are standing somewhere where other drivers can see you. It is not advisable to stand directly next to the car. Instead, stand at least a few feet away so that you are clearly visible.
Don't Accept Unsolicited Rides or Tows
In a perfect world, an offer of help would always be genuine and never carry negative implications. In an effort to stay safe, however, it is usually best to stay with your vehicle and politely decline any offers from strangers. Unless you truly feel safe accepting help, the smart choice is to remain visible in public or stay locked safely in your car.
Unfortunately, some towing companies are also known to take advantage of people when they are stranded. If a tow truck pulls up that is not from the company you called, do not accept a tow from them. It is a fairly common scam these days. Random towing companies will show up offering you a tow, only to later charge you hefty, overpriced fees. They will then refuse to release the car until you agree to pay them.
If you are unsure if the tow truck that arrives is from the company you called, call them back. You can ask for the driver's information or the tow truck's license plate number for verification.
Stay Off of Your Phone
As tempting as it might be to scroll social media or play games while you wait, save your phone battery. If the tow truck never comes, or if the towing company needs to call you back to verify your location, you will need to be able to use your phone. Unless you are somewhere where you can charge your cell phone or borrow someone else's, put your phone away. You should save your battery power for any other emergencies that might arise.
Don't Leave Valuables In the Car
If you leave your car for any reason, you should take valuable items with you. Your stuff will be okay if you are standing nearby with a good visual on the car. However, if the vehicle is left unattended for any length of time, you should take anything important with you.
Even when the tow truck does arrive, do not leave anything of value in the car. No matter how much you trust your local towing service, they are not responsible for keeping track of your personal items. Important paperwork that you might need for insurance purposes should go with you as well.
Call a Trusted Towing Company
When you're in a bind and potentially flustered, it is easy to make mistakes. It might seem easier to look up the nearest towing service, assuming they are all the same. However, thinking this way could potentially make the situation worse. Just because a towing company is close by does not mean the tow truck will arrive quickly, and even if it does, the company could be using outdated equipment that will further damage your car. A good idea would be to do some research to find a good company in your area before you ever find yourself in a situation where you need a tow.
 How Guy's Towing Service Can Help
Guy's Towing is the trusted towing service in Livingston, LA, and the surrounding areas. As one of the largest towing companies in all of Louisiana, we are committed to offering honest and friendly emergency towing services 24 hours a day, seven days a week.
From light-duty to heavy-duty and specialty hauling, we provide prompt and professional services for all of your towing needs. We also offer roadside assistance, with services such as flat tire repair, jumpstarting dead batteries, vehicle lockout, and more!