Getting stuck in the middle of the highway can be a nightmare for any motorist. Whether you ran out of gas or your car battery failed, you need a tow truck to take you back home safely. But before roadside assistance arrives, you'll have to be patient as the tow truck is deployed to your location. So, how long does it take for a tow truck service to arrive?
When do you call for a tow truck?
Different scenarios might cause you to seek tow truck services. In most cases, people reach out to towing companies whenever:
– They are stranded on the side of the road
– Their car broke down
–  The car ran out of gas or battery died
– They had a flat tire
How long do towing trucks usually take to arrive?
Tow trucks usually take 30 minutes or less to reach the destination, especially if they are equipped with modern tracking devices and apps. These allow dispatchers to know where drivers are at any given time. In cases where the tow truck operator is not familiar with your location, it may take longer as they need to find out its exact coordinates. You can help roadside assistance by providing more information about your whereabouts. For instance, if there's a hotel or convenience store near you, mention this so that towing companies can pinpoint your location a lot quicker.
What are some things that can delay a tow truck from arriving on time?
A towing company may take longer to reach your location if:
They are stuck in traffic
If your vehicle breaks down on a busy section of the highway and there is too much traffic on the road, it will most likely impact timing as well. It will take longer for the tow truck to reach your location because they need to find an available spot to park without causing more disruptions on the road. In such cases, try not to panic as you wait patiently for them to arrive.
There is an accident
If there's a car accident on the road, it will take longer before tow trucks can secure your vehicle. The drivers need to make sure that all vehicles involved in the crash are entirely out of traffic lanes and nobody is hurt or injured.
Bad weather conditions
Weather affects everything, including how long it takes for tow trucks to reach you when stranded on the highway. In cases of heavy rains, strong winds, or blizzards, it will take longer for tow trucks to arrive as they need time to clear up roads and remove debris from traffic lanes before getting to you.
Your location is too remote
If your car breaks down in a remote location, it will take longer before tow trucks can reach you. They need to ensure that they have enough workforce and equipment such as cranes and chains to rescue your car from dangerous areas where chances of accidents might occur.
What does a tow company need to know before arriving on the scene?
When you call for a flatbed tow truck, make sure to provide your location and information about the problem. If there are any injuries or medical concerns involved, tell them so that they can request first responders if necessary. Also, inform them if your vehicle is leaking fluid and how big it is. This way, drivers will know what equipment to bring when they reach you. Tow truck drivers are there for roadside assistance, so don't hesitate to ask for their advice. For instance, if your car's engine is still running, but it won't move, ask them how to go about it as you wait for their arrival. Of course, always follow their instructions when it comes to safety.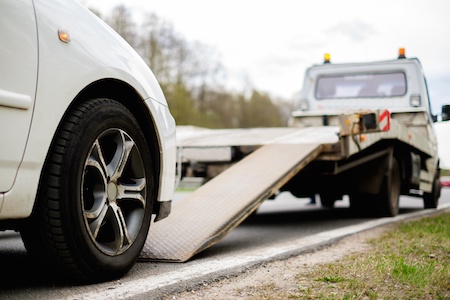 What happens when a tow truck arrives on the scene?
The first thing the tow truck company will do upon arriving at the scene is to check your car. After assessing the state of your car, they try their best to safely remove it or get your car towed immediately if that's what you want. If everything seems okay and safe enough for them to proceed with roadside assistance, then one of their team members will typically go to the trunk of their vehicle, which contains equipment like chains and tow ropes. They will maneuver your car into position and secure it before carefully pulling it out for towing.
What is the average cost for a towing service?
The typical cost of towing a vehicle varies depending on a lot of different factors. These rates are based on your overall market value, but you might need to pay more if there's damage or if you're stuck somewhere they cannot retrieve easily. You can also ask for quotes from different companies to have an idea about how much towing services typically cost.
How do I know the tow truck service is credible?
When calling for a towing service, make sure to gather information about their towing company. You can ask the tow truck service questions to assess how credible they are and if they have a good track record of providing roadside assistance. Their representatives should be able to provide you with background details regarding the towing company history and safety protocols.
Need a tow truck?
If you need a tow truck, be sure to contact Guys Towing. We have been serving local motorists for years and know exactly how to handle all types of roadside emergencies. Our team is highly trained and equipped with the latest tools for roadside assistance. Give us a call for any tow truck Ascension Parish emergency.