It is no surprise that we have more fun day trips near Baton Rouge. Although we covered the many small townships and parishes surrounding the capital city, there's still more to explore in Louisiana. So we've expanded the area to anything within an hour-and-a-half drive not named New Orleans (better luck next time, Big Easy).
Day Trips Less Than 90 Minutes From Baton Rouge
A plethora of historical and recreational attractions including zoos, botanical gardens and state and national parks await Baton Rouge's residents. By widening the parameters in our search, we've come up with some more quick trips that save precious vacation days while making for an amazing day trip or two in the Deep South.
The Louisiana Donut Trail: 70 Minute Drive Southeast
Not all road trips need take you across the state or country to a final destination, some start right in the heart of Baton Rouge and mosey down the highway making stops along the way. Only In Your State outlined a metro-wide donut trail in Baton Rouge. This road trip will take you to stalwart pastry shops such as Mikey's Donut King, Sambath's Donuts and Fleur-de-Lis Donuts.
That's a lot of donuts and what makes it so brilliant is the trail can be done at your schedule. You can plan on Baton Rouge activities like visiting the Louisiana State Capitol building or Louisiana State University's campus. Art lovers can look forward to the many art galleries and museums littered across the city. Adrenaline junkies can even visit the state's greatest pair of amusement parks, the Blue Bayou Water Park & Dixie Landin' before returning on their pastry tour way.
New Iberia: 80 Minute Drive Southwest
New Iberia's reputation as a small town culinary hotspot precedes itself. Day trippers can rest assured that a diverse menu filled with Cajun, Caribbean and Asian foods will fill the stomach and the soul. Moreover, there's plenty of outdoor activities and plantation homes to explore. From the Shadows-on-the-Teche in the middle of downtown to the botanical gardens at Rip Van Winkle Gardens just outside town, New Iberia offers plenty to see and do.
But to stay near town would sell this amazing day trip location short. The nearby Avery Island hosts tours of the world famous Tabasco Factory to see how this celebrated hot sauce came to be. Once you've had your fill of spice, you can take the time to relax at the Jungle Gardens right next to the factory. In the nearby Broussard, you can find Zoosiana filled with animals from around the globe. Fair warning about New Iberia: you might see this day trip transform into a weekend trip.
Atchafalaya National Wildlife Refuge: 55 Minute Drive West
For those in search of a natural retreat, the Atchafalaya National Wildlife Refuge is one of Louisiana's pristine natural park jewels. Just before Breaux Bridge and along Highway 190, this beautiful nature reserve still allows for plenty of activities. Visitors can go camping, birdwatching, hunting, trapping and fishing as well as take some stellar nature photography. Take a tour through America's largest wetland and try to spot black bears and bald eagles or go fishing for crappie and catfish. Whatever you choose, find time to enjoy what it means to be born on a bayou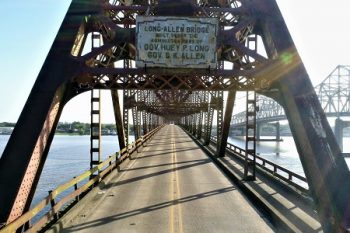 Morgan City: 90 Minute Drive South
Located at the southern edge of the Atchafalaya Basin, Morgan City should be a top destination. Centered on the Cajun Coast, Morgan City offers great options for cuisine, recreation and outdoor activities. Several golf courses lie just over the Long-Allen Bridge nearby the neighboring communities of Berwick and Patterson. River tours and paddling trails go up the Atchafalaya River's many tributaries allowing visitors to the explore the mouth of the basin. You can also tour the International Petroleum Museum and set foot on the very first floating oil rig of its type. Be sure to take photos at the Southwest Reef Lighthouse. Most of all, don't forget to tuck into a local restaurant like Cafe JoJo's, Rita Mae's Kitchen or Bayou Lagniappe.
Fontainebleau State Park: 90 Minute Drive East
Beach days at Lake Pontchartrain are a must for any resident of Baton Rouge. The treasure trove of hidden coves and and beautiful beaches along this estuary make for a great way to escape. The Fontainebleau State Park area offers plenty of glamping (Glamor-camping) and regular camping opportunities. Campers can enjoy a picnic area and playground along with fishing spots at the local pond and pier. For those interested in boating and paddling, there's ample freedom to explore the water and find a secret sunbather's paradise. Visitors can also hike, cycle or horseride the Tammany Trace, a pedestrian trail made from the old Illinois Central railway.
Day Trip Gone Wrong Near Baton Rouge? Guy's Towing Service Is There
While some of these final destinations fall just outside our service area, the routes there fall very much within our range. Find yourself in need of roadside assistance in the parishes of Ascension, Iberville, Livingston? Give Guy's Towing Service a call. Our tow truck operators undergo a thorough training process so they can handle anything. From lockouts, tire repairs and gas delivery to any-duty towing jobs, you're never out of luck with Guy's. Contact us today if you are experiencing a roadside emergency near Baton Rouge.