Getting towed is one of the most inconvenient experiences for a driver. Now, this is something you expect when you park your car carelessly on the road or leave it attended on someone's private property. But what happens when you come out of your apartment building and find out your car has been towed. Is it even possible in the first place?
Why do vehicles get towed?
In most cases, people get towed in any of the following scenarios:
Parking on private property
When you park your car in front of someone's home without asking for permission, the property owner has the right to call for a tow. You can avoid this by asking the property owner before parking on their driveway or property.
Parking in restricted areas
There are many areas where drivers cannot stop, such as fire lanes, handicapped spaces, and loading zones. Even when the area is not in use, you cannot park your vehicle in these areas. It is considered illegal, and you may get towed with or without warning signs. The best way to avoid this is by looking around for marked signage.
When parking on the street
This goes for private property too! When it comes to cars parked on the road – if they obstruct traffic, the chances are that authorities will remove them. When outside your apartment, consider finding a public parking structure or somewhere clearly authorized for vehicles to park.
Failure to pay parking fees
When you park your car and fail to pay the fees set by authorities in an area, they will likely come for your vehicle. The fee depends on the parking lot.
Your vehicle is leaking fluid
If your car is leaking fluid, it can damage the area around it. This could be harmful to other drivers and can set off an alarm. Authorities will typically tow the car to avoid possible accidents.
Can an apartment building have my car towed?
Yes! Apartment buildings can tow cars parked illegally in the parking lot, driveway, or outside unauthorized buildings. But this only happens if you do not follow the rules and regulations set by authorities, such as signs indicating where it is permitted to stop – even on private property like an apartment building's premises. Also, if your car looks like it doesn't belong in that area, they will likely tow it.
What happens when my car is towed?
Towing companies will usually take your car to the nearest garage or impound lot. They will try to contact you first through your car's license plate number. If they cannot find any information, you are responsible for paying the fees set by authorities before they release your vehicle back into your possession. Fees go up as time goes on, so keep that in mind when parking illegally!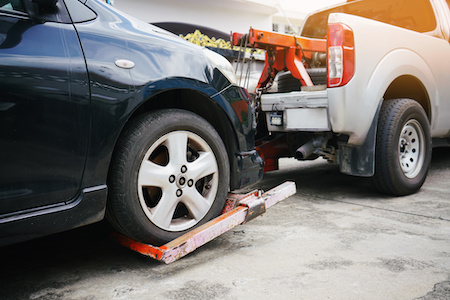 How do I get back my towed vehicle?
The only way to repossess your towed car is to pay the necessary fees. The relevant authorities usually set the fees, so you have no choice but to pay it before your vehicle is returned to your possession. These will typically include the towing fee, storage fees, fines, and impound lot processing. Once you have paid everything back in full, your car will be handed back over to you. However, if you feel the fee is unreasonable, check with city ordinances or call for legal assistance – this may help lower down what you need to pay!
How do I avoid getting towed from an apartment?
If you want your vehicle to remain safe outside an apartment complex, be sure to:
-Read carefully and follow all parking regulations as stipulated by the landlord or property management company.
-Do not leave it behind overnight unless you are sure that you will be returning before midnight. If your car is towed, then call for help as soon as possible to avoid paying more fees.
-Do not park in someone else's parking spot or block someone's vehicle. If the car is blocking another car or is in anyone else's way, the chances are that your vehicle will be towed if you don't move it soon enough!
You can avoid all this by reading carefully and following parking regulations when parking at an apartment complex, whether you live there or are just visiting. As long as you do this, your vehicle should be fine!
We Offer Towing Services!
Whenever you find yourself stranded in the middle of the highway, don't hesitate to call Guys Towing for help. Our tow truck Denham Springs drivers can come to your rescue in no time! Emergencies are our specialty, so call now if you need assistance immediately! We are available for any situation and are open 24/7.
FAQ
How much do tow trucks charge?
Their prices vary depending on the company, city, and your particular situation.
How do I find out if my rental car was towed?
You can call your local police department, or you can call the nearest tow truck company – they should be able to help you! If not, you can look for the nearest impound lot to find out.
What are the top things you need when your car is towed?
The most important thing to have with you would be proof of ownership, insurance, and a driver's license or ID card.