Tow truck services play an important role in helping stranded motorists get back on the road. However, they are most often used for towing broken-down vehicles or those involved in accidents. Not every emergency roadside situation warrants calling a tow truck; some situations are out of their scope. So, what happens when your car battery dies on the road? Can you call a towing company to replace it?
What does a tow truck company do?
Tow truck companies are in the business of towing away broken-down or stranded vehicles. They are an emergency service provider that motorists call whenever they experience car trouble. Tow truck drivers will then bring the broken-down vehicle to a service center, garage, or dealership where it can be fixed.
How can tow truck services help me?
Tow truck service providers can come to your rescue in various circumstances, including:
Get you out of snow
If your car gets stuck in deep snow, you can call a towing service. They can pull your car out of the snow by attaching it to their truck and winching it up using a steel cable. Tow truck drivers have the right equipment and skills to perform this challenging task.
Give you a jump-start
If your car battery dies, then it is time for expert roadside technicians to help you out. They have all the tools needed to give your vehicle's battery a power boost to start again. Some of these tools include cables with clamps, battery chargers, and booster packs.
Help you in an emergency
Roadside assistance providers are there for drivers who experience car trouble at any time of the day. They can help out when your vehicle is stranded or broken down on a busy highway after midnight or during off-peak hours when other motorists might not be available to help.
Get you back on track after an accident
If you're involved in an accident, call for help immediately! Towing services are good at handling accidents; they will clear away any debris from the road and tow away your car to a safer location before you can continue with your journey.
Get you inside your locked car
If you lock your ignition key inside the vehicle, you can call for help at any time. A towing company will send a locksmith to get inside your car using the right tools and then let you take over from there. Keep in mind that not all towing companies offer these services, so be sure to clarify.
What might cause my car battery to die?
A variety of factors can cause a car battery to die. Some of them include the following:
Leaving your headlights on
In some instances, leaving your headlights on while running other electrical devices inside the car might drain its power supply and result in a dead battery. This is why it's important always to turn off all electrical items when your car is not in use.
Driving on rough roads
Rough terrain might damage your vehicle's battery, especially if it has weak support systems and poor ventilation. This can result in the acid inside the dead car battery spilling out, corroding its components over time. You'll need to install a new one after this happens or bring your vehicle to a mechanic for repairs.
Faulty battery
A damaged battery will gradually lose its ability to hold a charge and power your vehicle's electrical components, including the starter, ignition system, headlights, and other accessories. You'll need to get car battery replacement as soon as you notice issues with any of these things. It is also important that you always use the same type of battery for your car.
How do I know I have a completely dead car battery?
The best way of determining whether or not your vehicle's battery has died is by starting it up in neutral, which will help you understand if it is in a working condition. The engine should start with minimal effort and turn off when the key is removed from the ignition switch. If this doesn't happen, then chances are your car's battery has died.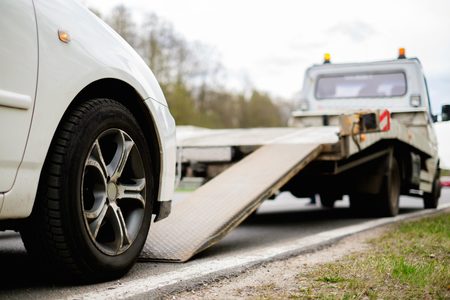 Can a tow provider replace my dead car battery?
Although this is a rare service, some tow companies will replace your dead car battery. You'll need to provide them with clear instructions when making the call. For instance, you should direct them to your car repair shop to pick a new battery. The towing truck will then come with a mechanic to install it and test your engine. Note that in such a case, you will be charged for placing the call and battery replacement. Again, not all towing companies will provide this service.
What are some things I can do to prevent my vehicle's battery from dying?
The best way to prevent your car battery from dying is by making sure that it has enough charge for the electrical components and accessories inside. For instance, you should keep track of how often you use your lights and items. Remember that using these devices drains power from the battery and can result in it dying. You should also avoid leaving your headlights on while the car is not in use; this will help prolong its life
How much does it cost for car battery replacement?
The cost of replacing a dead battery varies depending on the brand and model you use. You will need to get in touch with your mechanic or car repair shop for more information about this.
Your Local Tow Provider?
Guys Towing has been rescuing drivers stranded on the road for years. We offer fast and reliable towing truck services to ensure you get back to your journey safely. Call us anytime you need roadside Assistance Ascension Parish for a flat tire change, dead battery, accident, etc.