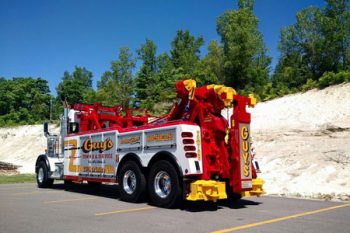 Call us anytime for 24-hour Towing
Getting stuck with a vehicle that won't run or is unsafe to drive is hard enough during the day time. But what about when it happens later? What if you're out getting a late-night snack and your car stops running on a country road at 3 in the morning?
You might be tempted to leave your car and call up a friend or family member to come and get you. But with 24-hour Towing from Guy's Towing Service near Geismar, you have a better option. No matter where your car is stuck, if you're in Louisiana, we can help. Simply give us a call, and we'll send one of our many emergency tow trucks out to recover you and your vehicle.
---
How long until you get here? While we strive to get our recovery service to you quickly, there are too many factors to take into account to give a definitive answer without knowing the circumstances. Towing companies that give a concrete time without knowing these things often do so to get you invested so you'll "wait a little longer" when they don't show up. We'll give you a straightforward estimate over the phone based on your location and where the closest available truck is and do our best to stick to it.
What if I don't know where I'm at?
While it's difficult to find where you are without obvious signs, we might be able to help. If you passed any landmarks along the way, tell us. And if you have a smartphone, your GPS should be able to give you a close approximation of where you're at. If you're able to get a data signal (provided you have mobile data), you can open up a map program that should show your location and the names of nearby streets. From there, we can send a truck out and thoroughly check the area until we find you.
My car just has a dead battery. Can you help?
 Towing isn't the only service we offer! We also provide roadside assistance for minor repairs like a dead battery. Each of our tow trucks is equipped with basic equipment such as a car jack and jumper cables in case you have a simple fix. But we can help in other ways too. If you know that you ran out of gas, for example, we'll fill up a gas can with a few gallons and bring it to you so that you can be on your way. While we have a qualified team of
Wreckmaster
 trained tow truck operators who can hook you up to their truck and bring you home, hopefully, they won't have to!
Our roadside recovery services are all available 24 hours
We know that not everyone who needs help with towing has a standard four-door sedan. That's why we have equipment ready to handle any type of vehicle you have.
Need help getting a motorcycle back to your property? We've recently added equipment specially designed to safely tow motorcycles without damaging them.
Stuck in a ditch? We have a powerful winching system capable of pulling out your vehicle from mood, snow, or even deep water and will tow it afterward.
If you have a large, heavy vehicle with a major issue such as a tipped full-load semi, our airbag recovery system assists us in getting it back up safely.
Have industrial equipment? We might be able to help with our Landoll trailers! These large trailers are large enough to carry tractors and much more.
Our customer service can't be beat!
Many companies in Louisiana offer top-notch service. But how many will do it for free when you need it the most? During the holidays, GTS offers FREE rides home from holiday parties if you decided to have that one or two extra drinks. Not only will we get you back to your own home safely, but we'll bring your car with you too! This same level of helpful service is what's kept us in business for over 40 years! So when you need emergency towing, call Guy's Towing Service near Geismar; we'll always put your safety first!
---