Looking for a tow truck in Henderson LA?
Although Henderson LA is a small town, that doesn't mean that nobody ever has car problems. And with most tow truck companies several miles away, finding someone to come by to help you can be difficult. Many towing companies are reluctant to make the drive, and then charge you an arm and a leg if they do. That's why you should try Guy's Towing Service instead. We'll get towing service your way as quickly as we can, and will always give you our signature friendly service no matter where you are.
You have tow trucks in Henderson LA? While we proudly serve as much of Louisiana as possible, our closest location to Henderson is in Lafayette. We'll gladly go drive out to pick up you and your car, but it could take a few extra minutes. Towing companies that promise unreasonably fast times often do so in order to get your business, then don't show up until much later. We always give you an honest response time so you can plan for us effectively.
Need something to handle a bigger vehicle? Try our heavy duty tow truck!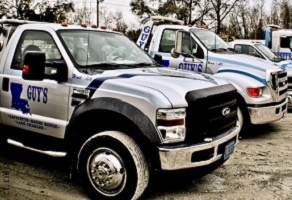 A basic tow truck isn't enough for complicated jobs. That's why we have several sizes of tow trucks available, to make sure we bring the right equipment for the task at hand.
Light duty trucks can handle most residential vehicles. This includes cars, trucks, SUVs, ATVs, and most other standard sized vehicles.
Medium duty trucks are for larger vehicles or ones in unusual places. These are good for RVs, fifth wheels, and cars stuck in a deep ditch.
Heavy duty trucks work for anything larger. Semi trucks with full loads and submerged vehicles off bridges can be recovered by heavy duty tow trucks.
What if my semi truck tipped over? 
We hope everyone's okay! When everyone's safe, that still leaves the problem of your truck. Especially if there's important cargo inside, extra care is required for large vehicles like this. That's why we use an
airbag recovery system
 to make sure to lift it safely and keep everyone around safe from further accidents.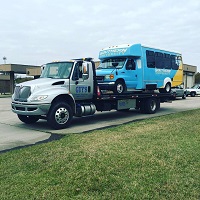 Our customer service won't be beat!
When you choose GTS, you're choosing a towing company that does much more than hook your car up to a tow truck. We'll always try roadside assistance first if you have a minor issue to save you time and money. And while we pride ourselves on having the friendliest staff around, we see that as expected behavior. We want to make sure everyone gets where they need to be in one piece. That's why we help the community however we can, such as by giving FREE rides home after holiday parties so residents don't risk driving home drunk. And with 24-hour towing, feel free to call us anytime!
---
What can I expect when I call?
One of our experienced team members will answer and tell you what to do next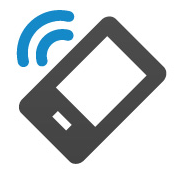 1
Contact
Call our office and someone will answer to assist you right away.

Details
Once we have your location and vehicle details we'll send a truck your way.

3
Dispatch
Next we tow your car to wherever you need it to go.
---