Where can you go for emergency towing in Henderson LA?
Driving at night can be stressful. This stress is compounded when your car stutters to a halt and you can't make it home. With some nearby towing companies only open for standard business hours, who can you call for emergency towing services in Henderson LA? Guy's Towing Service is waiting for your call. Our 24-hour towing services are prepared for roadside recovery throughout the state so that you aren't stranded anywhere for long.
Do you have roadside assistance too? Sometimes, you just need a little help. While you might be reluctant to call a towing company because they'll overcharge you for towing you don't really need, we operate differently. If you can't find anyone around to give you a jumpstart or need help with a flat tire, we won't tow your car. Instead, we'll drive over and help you out so you can get back on your way.
When I need towing service near me, how long will it take for you to get there?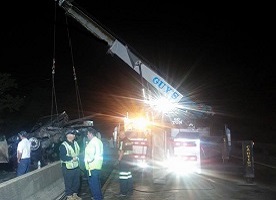 With our closest location a few miles away, it could take couple more minutes for us to get to you. But we'll always let you know upfront.
Honesty and integrity are core values of GTS, and we'll never try to cheat you to make a quick buck.
This includes giving you a straightforward response time based on your location and details of your situation.
Part of the time is making sure we have the proper equipment, so we don't have to drive back and try again!
We also have heavy duty tow trucks in Henderson LA
Most roadside recovery jobs don't require the powerful equipment of heavy duty tow trucks. But occasionally, large, heavy vehicles or hard-to-access cars need our help too. And our tow truck operators are trained by Wreckmaster for situations like these. With a 60-ton crane system, we're rated to carry any vehicle you have. We combine this with an airbag recovery system to carefully straighten tipped vehicles while minimizing further damage to property, the vehicle, and the people around it.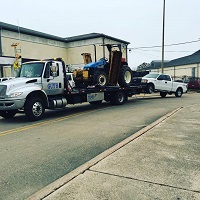 We have large specialty vehicles available too
Sometimes, you don't need something as powerful as a heavy duty tow truck, but require an unusual vehicle type. You might have a tractor that's stalled and is too long or awkward for a tow hook and need one of our Landoll trailers instead. Or maybe your cargo couldn't quite make it to its destination, and you could make use of one of our Peterbilt trucks and special hauling services. No matter what you need, our 24 tow trucks are always available for both routine and emergency towing. And you'll always be treated right by our friendly staff! So give us a call or contact us whenever you need towing anywhere around Henderson LA, and we'll make sure to take care of you and your vehicle!
---
My car broke down. What do I do?
Don't panic! Call us and we'll help you through the process.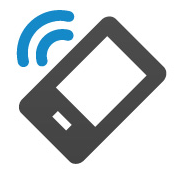 1
Contact
It doesn't matter what time it is, call us for fast and friendly service.

Details
We'll send the nearest truck to your location to help you out.

3
Dispatch
We'll make sure everything is hooked up right thentake you and your car home.
---